Grade IV 5.6
Gear: small rack nuts, cams .5-3, 30m rope with tag line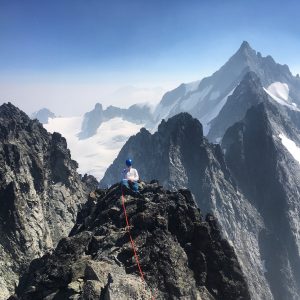 Flew out of San Diego sunday at 6:30 AM to Seattle.  Took the tram downtown, checked in and spent the day admiring the scenery and did a little browsing at the map shop in Pikes place, ejoyed a beer and sandwich and watched the menagerie of folks passing by, had a nice dinner and a couple of glasses of wine before hitting it early.
My guide,
Chris Simmons
picked me up at the hotel at 6:30, we had a long drive, north to Everett and then east past Darrington into North Cascades NP. We chatted about the typical 40-something topics of life, real estate, and marriage.
Got permits and drove to the trailhead for Boston Basin, sorted gear and headed up the trail. Conditions were absolutely perfect, if a bit warm, we left raingear, shelter and down layers at the car, taking just a light tarp as a groundsheet.
The approach was long and began with a graded flat road, then up steeply up a rocky, rough trail, past several stream crossings and through dense forest, up to the alpine and the Boston Basin where the ridgeline of Torment, Forbidden, Boston and Sahale came into view.
I took a crap in one of the best backcountry toilets you can imagine with a commanding view of Johannesburg Mountain opposite the valley.  We traversed the moraine to the west, up over some polished slabs and shallow snowfields.  Chris punched through some shallow snow and slashed his shin, but his Navy medic training came in handy, he patched himself up and was back on the go within 20 minutes. We climbed through easy 4th class terrain, over a low rib to a perfect, albeit half buried bivy site at the base of the Taboo Glacier.  We chopped it out, it dried quickly in the hot sun, enjoyed a nice dinner while smoke was beginning to blow from the northeast in due to fires burning in BC.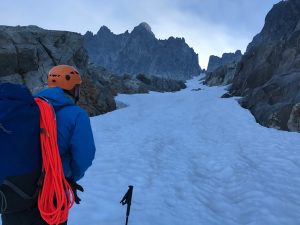 Tuesday we started up the southeast face route of Mount Torment at 5:30 AM. The smoke had intensified overnight and the valley was coated in smog which would intensify during the day.  Heading up the glacier via moderate snow and an easily-crossed moat, we racked up at the prominent notch.  The route trends around the southeast face via a well-defined route, many short pitches of fun and exposed climbing.  Using various dihedrals and ledge systems, trending around the face to a 3rd class gully, then over another notch to a good break spot, we dropped packs and continued around the summit block on easy 4th class terrain to the summit. Views were expansive, including El Dorado Peak, Sahale Peak, Granite Peak, and Moraine Lake.
From here we rappeled twice into the southeast face of the ridge on easy terrain to a notch, where we could see El Dorado peak and Moraine lake below.  The Torment glacier below was steep and heavily moated.   Chris rappelled down and was forced to put crampons on while hanging in the moat.  After what seemed like an eternity, he gained the snowfield, gave me a belay while I did a free-hanging rappel on to a ledge and across the snow bridge, finally climbing up out of the moat on about 3 meters of near-vertical snow.  Crossing this moat took nearly an hour and was the most challenging section of the route.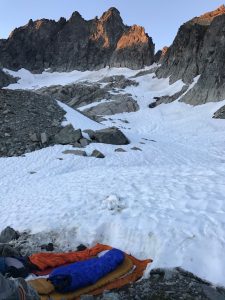 Once on snow, we traversed about 100 meters of a 50 degree steep snow slope to the bottom a dirty, loose rib, working around the north side of the rib to cleaner rock where Chris did 3-4 pitches of exploratory 4th and low 5th class, finally to arrived at a prominent, flat snow notch that  Chris called the V-notch, which allowed for faster travel along the ridge, using the shallow moat to bypass the low rock towers.Generally working around the towers and alternating from the south to the north side, we moved relatively quickly, through a second notch Chris called the U-notch, and then ultimately ending up at a broad, grassy, melting snowfield where we had water and a break before moving up a loose and sketchy south-facing slope to the top of the ridge.
At the top of the ridge we covered several hundred meters with huge exposure on both sides, culminating in a series of sidewalk-like flat blocks which could be walked over with ease. I was so exhausted I really could only barely enjoy it, but I stayed upright for the most part.   We did a short rappel off the top of the ridge to some 4th class ledges and ultimately scrambling up to the bivy notch, a perfect spot on the north side of the ridge adjacent a snowfield, with a nice gear storage area just above, one of the classic bivys for sure.  Had dinner, chatted, passed out just after sunset and 14 hours of sustained climbing.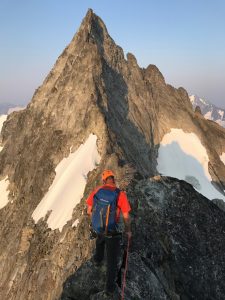 Wednesday started a bit late, around 6:30.  Smoke had now completely filled the valley and visibility was minimal. We broke camp and headed up the west ridge of Forbidden, starting immediately with an easy, airy step-over, then following mostly 4th and low 5th class terrain up the ridge, avoiding most difficulties by staying on the north side.  A few short fifth-class moves including some low angle friction slab traverses, a slab boulder problem which gave me a bit of trouble, an exposed traverse on which I slipped on a dirty step but caught myself,  and an easy 5th class downclimb off a tower just below the summit. Chris knew all the tough spots so it was easy to just follow instructions and we moved fast.  At the summit we could see that the smoke pollution was intense and the entire area was cloaked in smog.  Overall the climbing was fun, sustained and not too challenging, this really lived up to it's reputation as one of the 50 classic climbs and was generally a blast.
The descent route from Forbidden is very complex. Descending the west ridge was primarily down-climbing, with a few sections where Chris lowered me. Overall very positive holds, no major difficulties and we moved well.  We passed 3 guided parties coming up and Chris chatted with some of his colleagues. Back at the notch, we descended loose 4th class terrain to a prominent rock rib between two gullies.  The first 2 rappels went over low-angle terrain.  Rap stations were easy to find and were solid, with fixed pins, nuts, and nicely equalized rope anchors.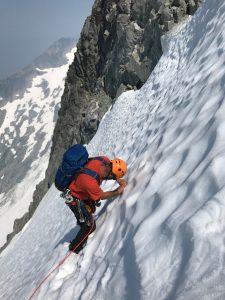 At the top of the 3rd rap an unguided party came up the gully to skier's left, an unsafe place to be due to rockfall hazard.   The leader darted around the anchor before moving above us and I noted he made me nervous.  Chris rapped down and I followed.  As I reached the belay, we heard "Rock" shouted from above and lunged into the small cliff at the rap station.
A toaster-sized block came flying down and narrowly missed Chris' head and exploded on the ledge.  Chris politely notified the party above of their carelessness but thankfully no one was hurt.  The belay was carefully chosen to provide shelter and it was much appreciated.
Watching another climber move from being in a rockfall hazard zone, then to climb above us to then create a rockfall hazard, confused me. it took me several minutes to accept that it was out of my control, but a part of me was angry at myself for not confronting the climber at the belay.  I knew he was unsafe.  I could have asked him to wait at the belay until we were out of the fall line.  Chris snapped me back into reality, something he is very good at, and we moved on.
The 4th and 5th rappel took us out of the fall line onto solid high angle rock, and finally down above the snowfield, where we did one final 6th rappel to the glacier, Chris belayed me down the steep snow, then walked and then glissaded the low-angle slow, the moraine, and finally the long, hot, dusty and intensely buggy hike back to the car, arriving about 11 hours after we started.  I was profoundly exhausted.
This trip was extremely demanding and took every ounce of my mental, physical and emotional energy.  The terrain is complex and the exposure is constant, which drained me after 14 hours of sustained climbing with a pack.  Most of the terrain was on good quality rock but there were some loose sections that were nerve-wracking. There is no easy way off the route so once on the north side of Torment the party is committed to finishing the traverse, rappelling off the south side of the ridge would require many steep rappels and uncertain anchor opportunities.  The area is remote and even a small slip could lead to serious injury, so it took constant focus and concentration.
All that said this was rewarding and there were long sections of fun and satisfying climbing.  The West Ridge of Forbidden Peak was very enjoyable.  I was looking to push my limits and was not disappointed.   Chris was a beast and put tremendous effort forward, leading every pitch, managing the rope, and handling the complex route-finding so I could focus on moving across the terrain.  Watching Chris I learned a lot about careful movement in the mountains, route-finding, and careful, efficient gear handling.
The big lesson for me was that alpine climbing requires a different mindset and skill mix than typical pitched out rock climbs.   It's a mix of hiking, scrambling, rock, snow, and the objective hazards are much higher and to a certain extent the margin of safety is not always in your control.  Good judgement is more important than climbing ability as you can usually route-find your way around most major difficulties.  But some obstacles will simply be impossible to pass without strong rock, rope and snow technique.   For my next outing, I also will need to lighten my load – ideally carrying less food, and smaller pack as a starting point.