The P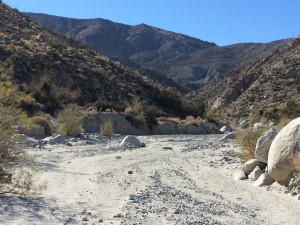 inyon Mountains occupy a remote section of the Anza Borrego Desert State Park.  Whale Peak and Sunset Mountain preside over the deeply rugged main ridge of Pinyon Mountain.  This trip was an overnight taken in December, 2015, a long loop from Nolina Wash, up Bighorn Canyon, overnight on Pinyon Mountain, down through the dry falls of Pinyon Canyon, finally through Harper Flat. Total distance is around 16 miles with most of the 3000 feet of climbing on the first day.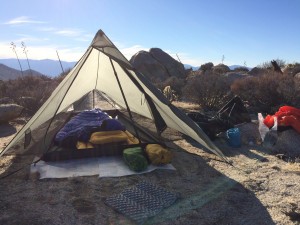 At mile 81 on 78, turn into the signed Nolina wash, drive up the wash to the intersection of two major washes and park. Bighorn canyon's entrance is a mile or so north of the Nolina wash, and you will have to find the right washes to avoid going up the mouth of Nolina Canyon. Follow the sandy, easy wash through Bighorn Canyon until you reach Blue Spring, which is marked by large, pock-marked sandstone formations looming overhead. A ridge drops down just above the sandstone, forming a low saddle between the Nolina and Bighorn canyons.  Gain the ridge here and follow it, climbing steeply about 2000 feet, over steep and sandy slopes, past a saddle to the obvious summit.
Despite dodging the cholla and agave, the summit is relatively flat and easy to explore. Most of the pinyon appear to have been burned making windbreaks and flat, open camp spots scarce.  I camped just next to the summit register but really didn't find too many camp sites that could accommodate more than a simple bivy.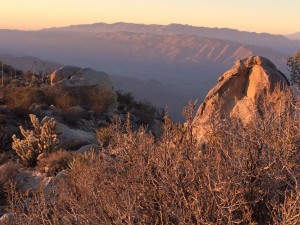 For day two, head south down the summit to a point above the ORV road and a turnaround spur just below. Carefully descend the crumbly slopes until you reach the valley floor. Head south (left) on the ORV road until you reach the jumpoff at about 1.5 mi. The road trends west out of the canyon, but continue past the jumpoff, picking through a number of class 2 dry falls. Most are easily navigated, but the final dry fall is class 3 and will require you to drop your pack to get through the final few feet. Soon you will reach the Harper Dam, built in the 30's when this area was ranchland, a testament to how much drier the area has become over the decades.
After the Harper dam, follow the wash northeast through the broad and open Harper flat, finally into the lower section of Pinyon canyon, down the wash and another few dry falls, ultimately connecting to the washes past Sunset Mountain and back to your car.   Stick to the wash closest to Sunset Mountain to avoid navigating the Cholla, Yucca and Agave fields inbetween the washes.