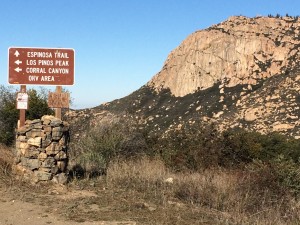 Another great hike in the Pine Creek Wilderness, this is one of the best in the county with great views, sparse pine and oak-studded peaks, and big granite slabs galore.
Exit I-8 at Buckman Springs Road, about 1 hour east of Downtown San Diego.  Turn right on the well-marked Corral Canyon Road, with signage for the Corral Canyon ORV area.  The road is paved but rough, especially at the bottom, but is gets progressively smoother and more well-maintained as you ascend up into the valley.   Follow the road a few miles until you see a green gate and a forest service sign about the nesting raptors in the area.  Park immediately past the gate, in the small area off the road.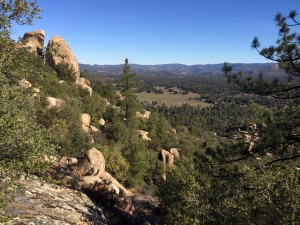 Passing through the gate, you'll walk west on  a shady oak-lined road until you see a nicely marked garbage can which shows the terminus of the Espinosa trail.  Follow the Espinosa trail west, following the dry creek, then finally climbing to a road intersection where Corte Madera's southeast face comes into view.  To the south, Los Pinos mountain rises up, topped with a fire lookout at the peak.
A handy sign points the direction to the summit trailhead, turn right and follow the Los Pinos fire road north, climbing steadily as chapparal becomes mixed with sparse oak and pine.   At another raptor nesting sign, turn left and begin climbing steeply up the ridge towards the Corte Madera summit.   The trail trends north past boulder slabs and shady pine and oak stands, with fantastic views of Corte Madera Valley, a private ranch property at the foot of the mountain. Mt Laguna and Cuyamaca are easily visible as you climb.  After about an hour you'll reach a sketchy junction, stay left and continue past the first flat campsite.  You'll continue climbing up the back of the cliff-face of the mountain, through waist-high chapparal, passing a fantastic campsite at the summit before reaching the cliff's face and the summit register.  Enjoy far-reaching westerly views that stretch to downtown San Diego on a clear winter day.  Retrace your steps to return.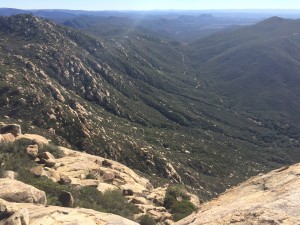 Note that this is in a very remote part of the county that which receives very high temperatures much of the year.  travel in this area outside of Nov – April is not recommended.  While the trail is remote, the Corral Canyon ORV area does get a lot of traffic, so be aware of Motorcycle and truck activity, especially in the lower sections of the road.