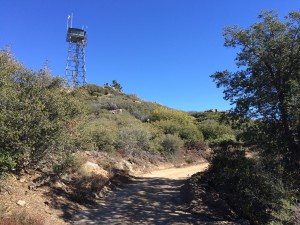 If you are looking for a long, tough ascent in San Diego county, there are few options with 3500+ feet of gain. Rivaling El Cajon Mountain, this is one of the harder hikes in SD county, although perhaps less so given that much of it is on well-graded fire road.  That's a pro and a con, because while you will make great time on easy terrain, hiking fire road is not exactly my idea of a wilderness experience.
From the tiny community of Oak Grove off 79 between Aguanga and the 76 junction, park at the National Forest Fire Station in a small lot just near the entrance. Finding the trailhead is tricky, the easiest way is to find a small gap in the fence and take the dirt road west until you see the marked Oak Grove Trail.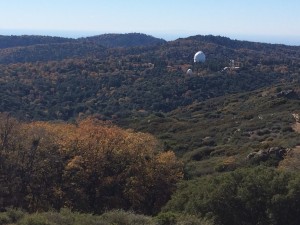 Heading west almost immediately uphill, the trail follows a steep ravine up hot, scrubby east-facing slopes, with views of San Jacinto and San Gorgonio opening up almost immediately. Soon the trail trends along cooler, northwest-facing slopes, where tall chapparal provides a bit of shade as you head up a seasonal creekbed to the junction with Oak Grove road at just about 2 miles.
Turn right on Oak Grove Road, follow it up and around the north-facing side with views of Baldy, Santiago peak and Agua Tibia opening to the north and west. Passing a spring and fire cistern and then a locked gate, you go left, uphill, on High Point Road and continue climbing towards a dense oak forest at the high point. The fire lookout tower becomes visible as you trend into the interior of the mountain. Continue west around the base of the high point, past wooded groves, a spring and fire cistern, and some good camp spots, finally up the road to the high point.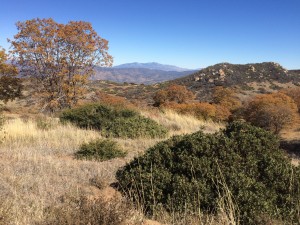 At the top enjoy views to Point Loma on a clear day, as well as a full view of Palomar's interior, including the observatory complex, Mendenhall and Barker Valley. To the south, nearly all major SD county high points are visible including Mt Laguna, Volcan Mountain, Cuyamaca peak, Stonewall Peak, Hot Springs Mountain and beyond.
Descend in reverse, hiking poles are recommended for the lower section as it is very steep and slippery.  Total hiking time for strong hiker should be about 5 hours, total distance is about 14 miles and about 3300 feet of climbing.