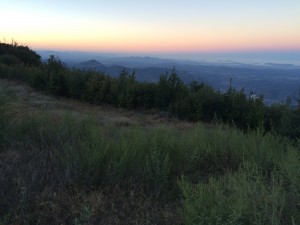 Rising up from the hot flats of Pauma Valley, Palomar mountain's unique unique character sets it apart from the drier mountains of San Diego.  A cool, forested refuge at 5,000 feet, this shaded, wooded eden of meadows, creeks and ferny glades feels otherwordly in bone-dry San Diego County.   This area has also been spared at least some of the severe burns that affected both Cuyamaca Rancho (Cedar Fire) and Mt Laguna (Chariot Fire)
Palomar Mountain has just a few large parcels of public land.  Much of the land at the lower elevations is part of the La Jolla Indian Reservation.  Private ranches dot the shaded and sheltered valleys of the summit.  Palomar Mountain SP is only a few thousand acres, but it's is a self-contained pine and oak wonderland.
High ridges to the south and west flank shaded Doane and French Valley.   Surprisingly dense Oak and Pine stands line the valley and good water flows all year.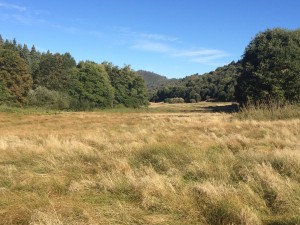 Most trails in the park are short, but longer loops can be created by stitching together the trails at the perimeter.  Park at the Silverwood picnic area lot immediately beyond the entrance, climb Boucher Hill and enjoy views all the way to the ocean on a clear day.  Descending north into moist ceanothus, oak and pine stands, finally emerging into wide meadows, skirting lower Doane valley, into French Valley.  Continue to circle Doane Valley, finally climbing steeply to Chimney Flats, to the ridge and your car.
There are numerous popular campsites in the Park, including state-run and CNF sites.  Backpacking in the park is tricky – most of the park is heavily developed with roads and there are private lands adjacent.  However there appear to be some stealth camping options on adjacent CNF land, I haven't fully explored these options yet.