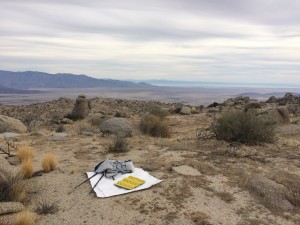 Pinyon Ridge forms the southern boundary of the Borrego Valley, separating the flat basin of Borrego Springs from the Shelter Valley area to the south.  Because of the relatively high elevation at 4,000 feet, this area hosts a transitional chapparal zone and cooler temps than the valley floor.
From Central San Diego, take 79 (from either Julian or Ramona) to S-2 at Santa Ysabel.  Continue North and then head east on S-22 Montezuma Valley Rd.  At mile 10.4 there is the signed Old Culp Valley Road. The trailhead is about 2 miles up at the signed Wilson trail.  My Subaru sedan made it but just barely, a small SUV should have no problem.  There is one particular spot where a large rock makes it challenging but mostly the road is in good shape.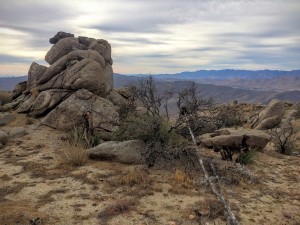 From the parking spot, take the signed Wilson trail east and head down across a broad valley as Pinyon ridge flanks you to the south.  Continuing east you will cross through a large burn zone of mostly chapparal, much of which is recovering from the 2013 Ranchita fire. As you continue to climb gradually over small passes the terrain changes to a yucca and cholla-covered zone, passing through several broad, shallow valleys.
The official trail ends in a wide valley at a wall of boulders (there is a metal pole to mark the end). From here follow a well-ducked trail up through the rocks to a second, higher valley.  The remains of the burned Pinyons are the only trees left on Pinyon ridge.  This upper valley has great views to the northeast of Hot Spring Mountain, Rabbit, Toro, Villager.  To the West the Palomar observatory is easily visible as is Volcan Mountain, Mount Laguna, Stonewall and Cuyamaca peak.  To the east is the thousand mile view to the Salton Sea and beyond.  Numerous boulder-topped peaks dot the rim of the valley and each is easily attained via some light scrambling.
Numerous flat campsites abound in the upper valley, particularly the north-facing side which has great views of Coyote Mountain, Villager & Rabbit peak and the Borrego Valley.  Evidence of jackrabbits and coyotes are visible, and of course the ubiquitous black beetles.