Sassy B's and the Senior Scene
Posted on : September 30, 2002
9/30/2002
by: Sassy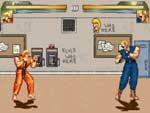 Rival Schools?
There's an old saying I just learned: "C's get degrees".
Interesting thing about this phrase is: it's true. You can really get C's and really get degrees! After 6 years of college, let's just say my enthusiasm for the learning process has waned somewhat.
The conundrum is thus: you need a degree. Now I realize that it's a sham and a shame toboot, but we live in a society which polaces a huge value on these things. And although every job you will get is probably a result of who you know, without a college degree you will never make the money you should.
So that leaves the would-be scholar in somewhat of a bind: How to actually benefit from a mandatory, possibly unwanted situation? Well, I'll tell you of course, in the form of a handy bulleted list!
State Colleges are mainly geared towards the confused, non-motivated post-teen generation. This means you can expect mind-numbingly slow progress and severely underfunded facilities. Be prepared to spend most of your time in a sub-sleep mode, with occasional bouts of frustration. The best way to proceed is to make sure that you keep you r head low and your work shoddy. That way, no one will notice you.
Pick a major where you actually learn something! This is an interesting concept. Some majors actually deal with things like facts and history. Unfortunately, I picked the Art major, in which everything you do is subject to the whim of some washed-up instructor. In a real major, it doesn't matter if the teacher "Likes" your exam. You pass or you fail, with no ego trips.
If you enjoy something, school is the best way to ruin any enthusiasm you may have. Besides, nobody likes a person who enjoys their work, anyway.
Teachers always say things like: "I want to push you to do your best", or "treat me like I'm you're client / boss". Whatever you do, don't buy into it. No matter how hard you work, the fruits of your labor are worthless letter grades. Last time I checked, my Mom wasn't sending me any $10 bills for getting good grades.
Finally, remember why you went to college in the first place: to look at boobies! Oh, and also to please your parents.

felixglibs

http://
Another great title would be called: Top 5 reasons why I hate my whole life or Why I am crying about it

---

Lecreep

http://

YES YES YES… COLLEGE RUINS ALL CREATIVE THOUGHTS. STAY IN YOU PARENTS BASEMENT!

---

PETER LEE
PLEE4139@AOL.COM
http://

i NEVVUH WENT TO KNOW SKUL ER NUTTIN BUT TEWDAY IYAM A VERY SUCK-SEXFUL PERSONE. THANKHUGH

---

felix

http://

peter lee is the king of komedy

---

Ty "Bew"

http://

you are so right. I only grade my students on how well they know Hillcrest!

---