News Flash: Your Car isn't Cool
Posted on : August 7, 2001
8/7/2001
by: Sassy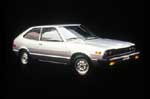 Attention Honda Civic owners of the world: Your car isn't cool. I know, you're going to say "But Sassy, my Civic has smooth lines and a peppy VTEC engine! What could be cooler?"
Let me say the Honda Civic is a fine vehicle. Honda is world-renowned as a maker of fine automobiles, and the Civic is a nice, cheap little car to get you around and what-have-you. It is not, however, a race car. Nor is it "performance sedan". A Honda Civic is a 4-cylinder , front-wheel drive car that gets good gas mileage and runs forever. There is nothing tough, "phat", or cool about that, is there?
You are driving the most popular car in the world. You are neither different nor interesting.
Putting the big plastic batwing on your Civic makes you and your car look stupid. Stop.
All the ground effects, rims, and humping booty bass in the world won't change the fact that your car is a 4-cylinder.
"Chirping" your front-wheel drive Civic should be a punishable offense. There is no such thing as a burnout on a front-wheel drive car.
That VTEC engine you're so damn proud of is a fucking computer chip. No one is impressed by computer chips.
Unless you or your parents are Japanese, take the big Japanese letter sticker off your car.
There is nothing tough about a car with wheels the size of a moped.
Put the damn seat-back up straight. You look like a moron.
h-man
nptbum@aol.com
http://
Having just invested my life savings in a honda civic I feel that i must defend my semi crazed investment while you are targeting the masses there are honda civics which do make an exception namely my own. One drive behind the wheel of it would change your perspectives greatly on how fast hondas really are or at least one how fast mine is. Whew that makes me fee
---
Rusty
red@sec.poop
http://www.eyunta.com
Umm… Did anyone ever mention to you that NO ONE CARES WHAT YOU THINK ABOUT HONDAS!!!!
---
Randy Price
randy.price@viasat,com
http://
I agree with everything you said about Hondas, but the picture is of a Honda Accord! How can I get a hold of Ben Chenot? Tell him to e-mail me.
---