Black to School
Posted on : August 30, 2001
8/30/2001
by: Sassy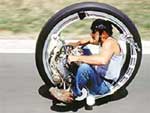 Thanks to h for the contrib!
Ahh, school days. The schoolchums and I head off to a grassy meadow and chase fireflies in the evening; a soft breeze trickles through the class,and I feel alive again.
Actually, school reeks. Here we go, yet again. All you celery high-schoolers, collegiates, grads, dads, moms and brides, get ready for….YET ANOTHER EXCRUCIATINGLY DULL SEMESTER OF SCHOOL!.
Here's a fun experimnent you can try. For the first few weeks of school, actually try to be interested in the class. Once you realize that it's taken 4 weeks for everyone to create and save a text file, kill yourself.
My school costs $900 a semester. What do you get for $900?
Grad Students. The PhD faculty is busy smoking joints in their offices while you're slogging it out with some socially retarded overachiever who's 2 years older than you. Enjoy pointing out all their mistakes and arguing!
Kid with backwards hat on. This is a college, a grand educational institution. And here I am sitting next to a guy who's wearing shades.
Cigarettes. Cigarettes are religion at school. Hey ladies: you stink.
Excersize. The campus is approximately 2500,0000,00000 square feet and no skateboarding on campus.
Pathetic Excuses. Here's a "Quick Tip" for all you Freshman out there: SHUT UP WITH YOUR SNIVELING AND GROVELING!. Usually 6 weeks is a fair amount of headway for a 2-page paper. I know you're having problems with your roomate. Im sorry your Grandma's sick…
So kids. Here we go. Back to the world.
Jaleem Triggs
fer
http://
Hmm, I find your views intersting and I would like to subscribe to your newsletter.
---
Faltraz Rhombus
Falzraz@yourmomshous.com
http://
Where can i find one of the cool wheel cars?
---