EGTLNC-Taco Bell
Posted on : December 22, 2003
12/22/2000
by: Eli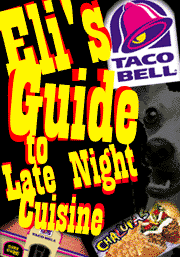 In younger and less cultured days, my late night cuisine choices consisted only of fast-food drive-throughs. There were three that were open late and it wouldn't be until later in my life that would I would stray over to Whataburger and Krystal (later reviews will cover these establishments.) In the beginning, there was Taco Bell and nothing else. It was familiar, cheap, and good. From a stoned and drunk high school frame of reference, Taco Bell represented all my needs in one pseudo-mexican dining establishment.
After a few more years on the streets, I began to discover a wider variety of Late-night cuisine and began to choose Taco Bell less and less. However, like the mafia, it always pulled me back in.
Back in the days of my high school ganja smoking and quart drinkin, Taco Bell was in the process of a complete make-over. Its Robert McKay designed, "mission style," restaurants were on the tail end of their run and a sleeker style with drive through capabilities was emerging. Also, the company was introducing a style of pricing called, "three tier pricing." This meant that stock menu items such as, Nachos Supreme, Tacos, Cinnamon Crisps, Bean Burritos were priced on a scale of .59, .79, .99. The final aspect of the Taco Bell masterpiece came when the corporation declared that it's hours of operation were widening to three o'clock in the morning. To a drunk, stoned, and broke high schooler the system was magnificent. They had a customer for life.
The Taco Bell phenomenon wasn't all hype either, the food kicked ass. Particular favorites of mine were anything with the word, "supreme," in it. Most of the time, if a menu item was on the .59 tier, it could be bumped up to the .79 tier simply by adding "supreme" after its name. If a menu item had supreme in its title, it meant only one thing, sour crème. With just one word, a plain taco or soft taco could be transformed into a "supreme" taco. A plain bean burrito became a monster production with lettuce tomatoes and more sour crème. The upped version of classic nachos was an awesome dish called, "Nachos Supreme," that was covered with ground beef, cheese sauce, tomatoes and even green onions for chrissake! Supreme indeed.
Beyond the three tiered menu items lie even more goodies. Mexican pizza was a dish that began its life with an advertising campaign that dubbed it, "Pizzazz Pizza," then settled into a permanent menu slot. I could only dream about its flavor since it rested around the 3.79 range and was to pricey for my high school budget. In later years though, my wallet grew and I was able to partake of it and I must say it lived up to its expectations. The double crusts were made of the same type of crispy, flaky, shell that the Taco salad's were made of and a layer of beef, cheese, and lettuce was sandwiched between them. Speaking of Taco Salads, if a change of pace is necessary, try one sometime. They are filling and delectable. Other food items that reside on the pricey side of the scale are anything with grilled meat and steak items. As a judgment call, I would have to say just stick with the ground beef. There is no need to order steak at Taco Bell.
I would like to add that adding guacamole to any item on the taco bell menu is a waste of .35. It has a processed look and taste and should just be avoided all-together.
One of the most beautiful and majestic aspects of Taco Bell is its specialty items. Every fast food place has "limited time" offering such as McDonalds' McRib or Wendys' Chicken Cordon Bleu. If a specialty item is a good sell, it eventually becomes a standard menu item. Past successes in this field have included the aforementioned Mexican pizza and an item once known as a, "Chillito," which is now known as a chili burrito. New Orleans, Louisiana must be where Taco Bell releases its specialty items on a smaller scale for observational purposes. During the time I lived there, I was witness to some bizarre food concoctions that resembled something out of, "The Island of Dr. Moreau." Two of the more heinous ones I'll give mention to here.
"Fries Supreme," was the name the Taco Bell executives gave to a dish they sold in the New Orleans area for about two years in the early nineties. Its name virtually sums it up. It was a Nachos Supreme with french fries instead of chips. The very concept of french fries at Taco Bell is enough to perk the interest of most people. The idea of placing ordinary Taco Bell toppings on said fries is astounding. And let me tell you something about this stuff, the shit tasted incredible. At 2:30 in the morning in a cheap hotel after a night of hurricanes and hand grenades in the French Quarter, it hit the spot like patriot missile. "Fries Supreme," lies close to the top of my list of ultimate late night cuisine feastings and I would easily recommend it to any drunkard lucky enough to discover it. Unfortunately, it dropped off the Taco Bell menu sometime in 1995 and if its still offered in certain markets, I havn't seen it.
Another monstrosity that appeared on the New Orleans scene shortly after the disappearance of Fries Supreme was something the, "Frito Burrito." When I first heard the woman I was with order this thing, I did a double-take. When she got it in the truck I was utterly amazed to see a chili burrito with fucking Fritos corn chips in it! I never saw anything like it before or since. The sad part is that, for whatever reason, I didn't have a chance to try the thing and cannot justly give my opinion of it. For the record, the woman I was with said she got one every time she went there and lamented to me weeks later that it had been taken off the menu.
There was also the famed, "double-decker taco," that, from what I understand, is now widely available in many markets. This was a genius of a taco that combined the elements of a hard taco and soft taco by placing the soft taco inside the shell of the hard taco and pasting the two together with beans. It's no wonder it took off like gangbusters.
Monstrosities aside, Taco Bell has hit the mark with some of their specialty items. Gorditas and their fried cousins Chalupas are exquisite delectables worthy of late night TV watchin while passing out with the last beer still in hand.
Though I have not had the chance to explore the new wave of Taco Bell menu items as much as I probably should, I wont speak of them like a bitter old man may talk about rock music. Instead I salute the newer menu items and encourage the younger generations to begin their nocturnal culinary journeys where I began mine, at Taco Bell.
The Ratings:
Hours: Taco Bell is open till 2am or 3am in most areas and twenty four hours in some. I don't know what sorts of food is available in the morning hours but the fact that some people in the country cant get beef burritos whenever they damn please keeps Taco Bell from getting a ten in this category.
Rating: 8
Atmosphere: Taco Bell rates high in all aspects of atmosphere except dining room. Fluorescent lighting may be appealing to families in the early evening, but late at night when the hoodlums come marching in there is no need to expose them for what they really are. Bloodshot eyes see better in the dark.
Rating: 8
Portions: Food size is decent. Nothing fantastic, but not scraps either. Taco Bell picks up points for the price of the stuff and thus picks up points for portions since I can get full for under five dollars.
Rating: 8
Food Quality: Though it isn't exactly the most unique tasting grub in the world and there is a certain processed notion about it, Taco Bell delivers the goods with a decent product. Still, fast food cant ever place too high in this category and Taco Bell is as good as it gets.
Rating: 6
Decadence: Heart attack risk is sky high on this one. However, the decadence of Taco Bell lacks character and personality. Extra point for the fact that I am consistently diarrhetic after a night of Bellin'.
Rating: 7
Overall: 37 out of 50
Final Thought:
Taco Bell is a kick-ass eating establishment for newbies. It functions well as a training ground for up and coming late-nighters and still provides a satisfying experience for elders who wish for nostalgia or cannot locate a better restaurant during late hours.
Fun Facts: Also referred to as "Toxic Hell," and "Taco Hell," in sub-cultures across the country. / The name "Pintos and Cheese" was created for refried beans because so much of the country has little understanding of what a refried bean is. / Is in partnership with Pizza Hut and KFC. / The Chalupa was introduced because studies showed that 18-24 year olds were more 'self' indulgent than previous generations. "The heavy users of Taco Bell crave more flavor, extremely rich, spicy and indulgent products. The unique Chalupa flatbread taco has a soft outer shell with a golden brown layer that is crispy and flaky and has a bold taste." / Marijuana usage was also up in the same age bracket at the same time.