Welcome to the Inter-Web!
Posted on : October 29, 2001
10/29/2001
by: Sassy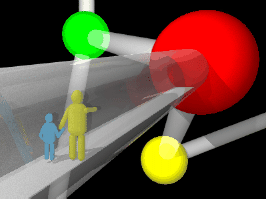 Welcome, friends, to the amazing world of the internet.
Some call it the "web",or the "Information Superhighway", or "The place you get porn".
The internet is the ultimate post-modern experience; a constant critique, sometimes on life, sometimes on the internet itself. It is at the same time a joke and serious buisness.
The internet is basically about 3 things:
porn
money
stuff for nerds.
Nerds own the internet. When you see a long white page with black text and a lot of bullet points you should just go ahead and assume its nerd-related. Over time, nerds become nerdier. Avoid them, unless you know their culture, customs, and rituals.
Money is hard to come by on the web. However, your personal information can be regarded as equivelent cash. Your email address represents your sexuality. Be careful who you give it up to.
Porn is an important part of the internet. There can be no internet without porn. Defining porn:
Porn is the bottom layer of internet activity.
Sexually explicit websites are porn.
Pictures of horrible things, (rotten.com) are porn.
Mousetrapping is porn
Sites that use META refreshes to keep you from using the back button are porn
Misspelled word sites are porn
warez and cracks are porn
Tony Montana
wcfolife@yahoo.com
http://
I like Porn?
---