Wiggin' out over Wiggaz
Posted on : October 24, 2000
by: Sassy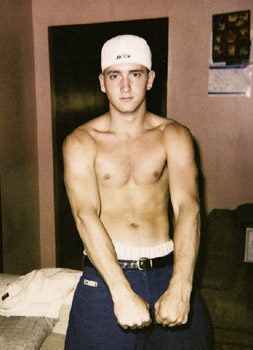 As a student at a major urban universitiy, I am privy to a unique microchosm of young America.
Today, I present "The Wigger". Also known as 'Yo Boys', 'Hoodies', or my personal favorite, 'Milk Chickens', the wigger is an interesting specimen for many reasons.
The wigger gains his notoriety by acting, dressing, and speaking like a 'gangsta'. While the wigger may appear to transcend racial boundries, he usually adheres to a strict set of guidelines for dress, speech, and attitude.
Not surprisingly, the wigger, like most of us, forms his identity around socio-economic boundries. I have taken the time to create a handy chart to help you spot the wigger and appropriately categorize him.
Dress
As a rule, the wigger prefers large, extremely oversized clothing:
Fila warmups, any nylon clothing is acceptable. One or both pant legs rolled up is the norm.
K-Swiss sneakers, all white, are a must, although nike, adidias, or other basketballer shoes will do. Skate shoes by Osiris and DC are used as well.
Ballcaps, brim flattened. Visors. If worn crooked, you know the wigger is supa dope.
Ride
A wigger's ride is an important indicator of status. I have divided these into low-end, medium, and high end.
Low-End
Hundai (any model), Nissan Sentra, Toyota Tercel, or any late 80′s, early 90′s economy sedan, preferably teal or 'pacific blue' in color.
Ford Escort 'sport' is also acceptable. Rims optional, booty bass optional at this price point.
Medium
HONDA CIVIC! Lowered, hatchback or sedan, with rims and booty bass. This is the wigger's utility vehicle and a sure sign of proper wigger status.
Mitsubushi Eclipse, Nissan Maxima, or Ford Probe are all acceptable, provided booty bass and rims are provided.
Look for a sticker of 'calvin' peeing, or any aftermarket automobile accessory manufacturer's emblem.
High-End
Ford Mustang, yellow or white, with rims.
Lowered Chevy 1500 pickup with fitted tonneau or hardcap.(Ford Expedition also acceptable)
High end vehicles always are outfitted with rims.
Accessories These items are optional and serve to further serve to form a wigger's identity.
Pager. Really a must-have item for any self-respecting wigger. Preferably 'imac' colored
Pit Bull. Serves as a form of backup, these child-killing dogs keep the 'playa hataz' away.
Key Strap. These long straps proudly display the name of a wigger's favorite designer or rap artist.
Old English Lettering Tattoo Shows em that you're 'hard'
Of course this is but a sampling of the wigger culture. Rappers like Eminem are making it more and more acceptable to take up the 'thug life'. Keep your eyes open and see what interesting things you can find!
---