Have you ever farted in church?
Posted on : October 16, 2000
by: The Creeper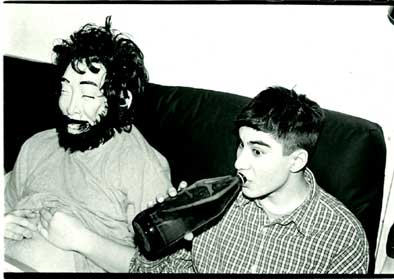 Originally posted: 10/16/2000
One time myself and some friends went to a party. It was a high school party and we crashed it, we were all second year college students (save your comments) and I think the girl who's house it was a senior (in high school).
Anyway, as we arrive at the party we see around eight kids (all of whom were older than us) smoking weed on the front steps. They graciously gave us an invitation to joint them for a bit. Far be it from us to turn down such a courteous invitation so we end up on the front steps for around an hour and half.
We decided it was time to take those steps through the front door and enter the wild world of the high school party scene; that we had all left behind some time ago (against our will). So we left our friends on the front steps to talk about the coolest pills that they had come upon in their grandmothers medicine cabinet.
The sights that greeted me as I walked in were strange and new to me. In my day all any one did was sit around and play "turbo Cups" (get drunk fast game) and listen to some sort rock n roll. This party was different, people were dancing (listening to dance music) and drinking casually, with the exception of one kid who was stumbling around telling everyone what famous person they looked like.
My friend mike and I had just got a new twelve pack of Heinekens, with all these people around we decided to stash they somewhere safe so we didn't have to carry them around all night. I was appointed "the beer hider" and was quickly off to hide beer.
"Where will no one find them?" I thought to my self. I walked out through the French doors leading onto the deck, as I got the middle of the deck I made a quick right and hopped the railing into the backyard. "Who would look here? It's dark and scary, not a place for beer." I thought to myself as I grabbed a few for mike and myself and made my way back inside. The beer remained undetected for the rest of the night.
One thing that hasn't changed about high school parties is that they end ass early. At around one it was time to go. We rounded up the troops and Mike and went to get our few remaining beers.
"Why are they way over here?" Mike asked.
"I don't know" I hissed, feeling insulted. It was his duty to carry them out of the party seeing how I hid them. As we made our way out, we stopped to talk to some ladies who were hanging out by the pool table. Mike put the Heinekens on the pool table and we chatted for a bit. We moved on, only to be stopped by some other kids by the front door. Again we chatted for a bit this time mike put the beers on the nice carpet by the front door. We hurried through this encounter, seeing how they weren't girls. Out the front door we went and into more kids. this encounter was really quick we just said hello, mike rested the beer on his leg. Our last run-in took place next to her fathers brand new convertible BMW. It involved girls so we took out time, mike placed the beer on the cloth roof of her fathers car.
After this we finally made our way to the car. Mike then realized there was a large brown stain on his leg.
What the fuck is this?" He barked. We all looked on, baffled, as he held the twelve pack up, revealing a man-sized clump of dog shit on the bottom. I guess that why no one else hid there beer in my spot. We laughed with much intensity and then got it the car and got the hell out of there, seeing how mike had just put the shit-covered twelve pack in quite a few key (and expensive) places around the girls house. There would be hell to pay if she ever put two and two together.
Stupid college kids.
---
Sassy B
rolls707@hotmail.com
http://www.apple.com
The Creeper is a straight G.
---
greg vibbleston
der@wer.moy
http://
Actually, I fart in Church every Sunday.
---