New Stuffs, Old Stuffs
Posted on : January 27, 2003
by: Sassy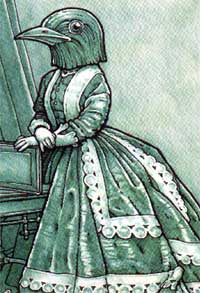 Hey!
Just recently I got razzed a bit for the chintz factor on my portfolio (or lack thereof). This got me thinking, so I got busy and started amassing the necessary stuffs to get my portfolio up-to-date.
So I'm proud to introduce my revamped portfolio site: portfolio.vistaseeker.com. There's tons of new and recent works on there, and a lot more still in the process of being scanned or converted for the Web.
Check it out and let me know what you think- oh, and use a recent browser, if you can, cause I'm done with Netscape 4.
I'm hoping this is the start of some new things- I'm planning on consolidating this site (the Celery Club) and Vista Seeker, and starting fresh with a simpler and easier-to-maintain web presence. What does that mean for the CC?
Simply put, I have run out of steam. I have too much going on- too many personal and paying projects to keep up with.
The Celery Club will live on. My plan is to archive this site and present it as a one-page compendium of links to classic articles and features. The Boards will be ported to new forum software and will live on as well. The current hiking content on Vista Seeker will also be archived and available as well, but will no longer be maintained.
Vistaseeker.com will be the home to my new blog page, which will basically be the same thing as the Celery Club- posts and links.