Celery Night Out: SuperCross
Posted on : January 21, 2001
by: Sassy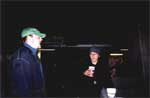 BCC and Sassy get HYPED!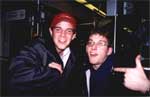 Eddie Stone and Felix: Homeys?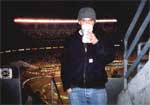 Sassy loves to party!
SuperCross. The bastard son of motorcross, bmx, and monster trucks, supercross calls us to worship its triple jumps and can-cans. When BCC said: "SuperCross", I said: "Yes".
Tibs got off work around 6:30, and after a few beers and bh's, we headed over to catch the trolley to the 'Q'. Our first attempt at a trolley ride put us some miles in the opposite dierction of our destination. Like idiots, we had gotten on the wrong train. Soon enough we were on our way.
During the trolley ride, Tibs and I were greeted by the incredibly energetic and somewhat psychotic Eddie Stone. Eddie cruised over to us, saying: "You guys look like you feel like talking!" Eddie was either high on shit, or a bible-thumper, I thought.
"You guys high? You guys partying or what?" Eddie asked.
Felix immediately began spewing lies, telling Eddie that we don't party because we're 'Baptists'. I tried not to break up laughing, but Tibs and Eddie hit it off. Maybe when Eddie gets out of detox he can write an article for the Celery Club.
We arrived at the stadium, more than an hour late. BCC was waiting with the tix. We cruised in, and I noticed I had no cash and my stomach was grumbling. I needed a cash machine. BCC and Tibs went to the nosebleeds to find our seats. I went on a mission to get cash and grub.
The supercross upper-level crowd is a colorful one. Most of San Diego's tight-panted teen girl population was out, squealing, laughing, and playing with the saggy panted, ballcap wearing teenage boys. The place was on the edge of fighting at all times. I located a cash machine, and a nearby stand serving Rally's. I waited on a lengthy line and bought a Big Buford, fries, and a $6 MGD served in a wax paper cup.
Fully stocked, I moved to the upper deck. BCC, Tibs, D-Lux, PYROmaniac,and other assorted cronies were in effect, despite the chilly temperatures.
Ricky Carmichael beat Jeremy McGrath in some hot racing action. On the way home I fell asleep on a bench.